Is tax season a good time to buy a car?
While none of us look forward to paying taxes on our hard-earned money, we sure like that tax refund! Come tax season, many of us start figuring out how to put that refund to use. For some, it could go into savings, for others, it's the perfect incentive to finally take a vacation.
What if your old car isn't quite up to snuff or there's a dream car you've always wanted? You may get the best bang for your buck when you buy a used car with your income tax refund.
The Best Reasons to Use Your Tax Refund to Buy a Used Car
There are obvious reasons to use your tax refund as a down payment on a used car. If you don't have a car and need one, buying used is more economical than buying new-and the extra money from your tax refund can make it even more so. But the two biggest reasons to buy a car with your income tax refund comes down to deals and down payments.
Tax Season Car Deals
When tax time rolls around, it's a good time for many to buy and sell. Just like you anticipate tax time because it can mean more expendable income, so do used car dealers. That's why so many dealerships have sales during and around tax season. Because they know there is a limited window to make a sale, dealerships are ready to cut prices and work with you to get you into a car you love.
With or without a down payment, many dealerships are ready to move cars and help you with financial incentives. Some may offer free oil changes, alignments, or other maintenance needs at a discount to sweeten the deal.
You Have That All-Important Down Payment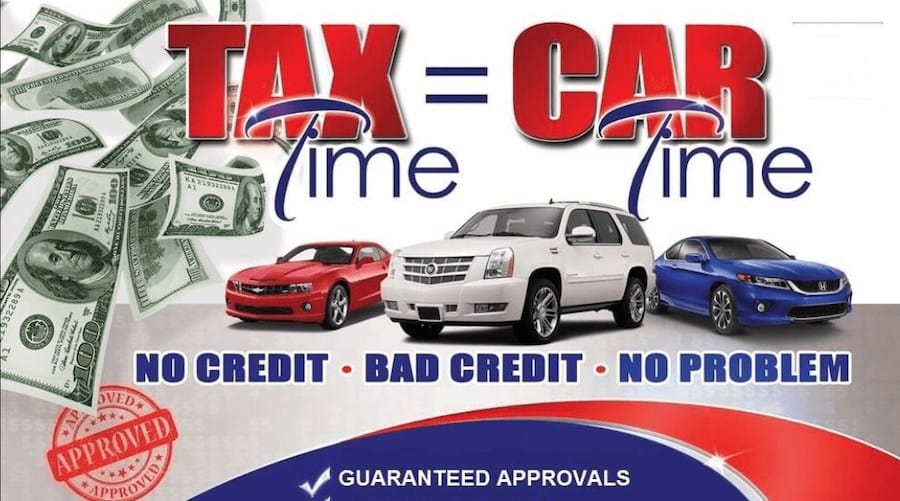 When you buy a car with your income tax refund, you may have enough to make a substantial down payment on the car of your dreams. According to Edmunds, a sizable down payment is one of the most important factors when you're buying a used car. Especially if you have less than perfect credit, when you use your tax refund to buy a used car, you'll have access to more finance options. So what are the benefits of using your tax refund as a down payment?
A larger down payment means lower monthly payments.
The larger the down payment, the less interest you'll pay over time.
A substantial down payment helps you build equity more quickly, which offers some protection from depreciation.
According to Bank Rate, the average tax return for the 2019 tax year was $2,535. While the traditional 20% down payment has been a standard for many years, the increasing price tags on vehicles has lowered the average to about 11%. What does that mean for you?
Let's do the math. If you buy a $20,000 used car and have an average tax refund for your down payment, you'll end up putting down about 11%. That leaves you with about $18,000 to be financed. If you buy a $13,000 used car and use your tax refund for the down payment, you'll only be financing just over $10,000. See how it works? Now you can figure out how to make your tax refund go further and get you into the right used car.
Remember, your tax refund only shows up once per year, so it's important to know what your finances will look like the rest of the year. You deserve and should get a car that makes you happy. That said, you should also be comfortable with the monthly costs that come with a new-to-you ride. A reputable, experienced used car dealer will always be glad to help you make a good financial decision. They can go over different scenarios regarding interest rates, down payment amounts, and price points to help find the best fit.
When you buy a used vehicle from a dealership with an excellent reputation, you can make your tax refund go further. Find out more when you contact us today at (888) 557-4326.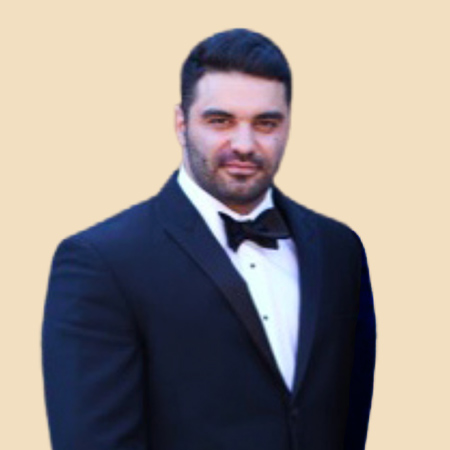 There are good reasons people will buy their next used car in Tucson from Car Time Supercenter. But I think we are one of the most trusted used car dealerships mainly because we treat everyone like family. My family has provided quality, dependable local used cars to Tucson customers since 1984, and I'm proud to be a part of our continued success.
Like many family-owned businesses, I grew up going to work with my dad. Falling in love with cars was natural because of my father's passion, and eventually, I came to love the car business just like him. I officially joined the Car Time Supercenter team in 2012, starting in the finance department. Over the past decade, I've learned the used car business and how to treat customers from my family and industry resources.
Today, I oversee marketing, social media, inventory, and reconditioning, so I play an essential role in delivering local Tucson used car buyers the best experience possible. I also help our family business keep up with the times while providing old-fashioned customer service. From attending NADA classes to becoming Allstate certified for back-end products, I continue to learn and add skills to serve our customers better.